In general, when we talk about companies like Razer, we focus on the brand's devices. Whether in announcement or launch messages, a product review, a buying guide, etc. The tangible part of the equation is the one that stars the information. And of course it is logical, because eventually we can buy a mouse, a keyboard, a laptop or headphones, to give some examples. However, there is an element present and inherent to the vast majority of them that usually goes somewhat unnoticed: software.
First and foremost, the software associated with the devices fulfills the basic purpose of enabling their use. At this point we are talking about drivers, configuration applications, etc. However, some companies are not satisfied with providing the basics, but They complement it with other features, some of which are extremely useful and some of which are interesting to say the leastcausing its value proposition to increase substantially.
At Razer, they are fully aware of the extreme importance of the software that accompanies their devices suits them and subsequently renews and improves it frequently, and in addition, in this sense, expands its catalog with new solutions for users. The most recent example of this can be found at RazerCon 2023, which took place a few days ago, where the company announced several news in relation to the software. We see them below.
Axon Create
One of the easiest and most common methods of personalizing your computer is, of course choosing a desktop background that is visually appealing, which represents our tastes, hobbies, etc., simply makes it so that as soon as we turn on the PC, we see something that we can identify with and that we like. To make managing this type of content easier, Razer last year introduced Axon, a management app that also offered access to a wide catalog of static and animated backgrounds.
As you can see, the company has now added the word "Create" to its name. Because? Well, because now, in addition to allowing us to download and manage desktop wallpapers, it adds a new feature based on AI Leonardo.ai with which we can create personalized wallpapers from prompts text. The application has the following settings:
Number of images: The app allows you to create one to four images with each prompt that adapt to the parameters you set for them.
Optimized model: each model responds better to certain types of images. To get the best result, Axon Create offers no less than 31 different models with descriptions so you know in which case each one is the best.
Style: In addition to choosing one model or the other, the application also allows you to choose the style you want for the image or images resulting from the generation process.
Distinction: Here, as you may have guessed, you can choose the dimensions of the resulting images.
Negative description: This is undoubtedly one of the most interesting points because it allows us to specify, even through text, what we don't want in the image. We can compare it to using the "-" operator when searching on Google.
Axon Create is a free app, you can download it from this link, and it contains a limited amount of image creation tokens that resets periodically. However, users who want to create more wallpapers can purchase additional tokens directly through the app.
Synapse 4
Synapse is an app well known to users of the brand's devices because it is software that centralizes management of which. From adjusting camera capture parameters like the Kiyo Pro Ultra, to the output parameters of the Razer Leviathan V2 Pro, or the response of keyboards like the Huntsman v2, everything converges in this app, with modules added as we connect more. branded devices.
So Razer has announced that it has redesigned the Synapse, v a new optimized version that will be 30% faster than its predecessor, thanks to the implementation of a multi-process architecture that will lead to substantial improvements in speed, fluidity and stability. Additionally, as you can see in the image above, Its interface has also been redesignedin which it is faster to switch from one device's settings to another, which you can do with a single click.
Razer will open the Synapse 4 public beta program later this year. If you are a user of the brand's products and want to participate, you can register at this link.
Razer Chroma
During last years We have seen RGB LED lighting gain a presence in many of our lives.. First in keyboards and mice, then in the guts of computers and in parallel (actually before, although a few years ago with a very limited offer) in the light elements themselves, in which Philips lags behind with its Hue product line. it was a pioneer some time ago.
This abundance of RGB LED lighting already allows us today, create complex and interactive lighting schemes, which adapt to circumstances, events, content and of course our instructions if we want a change at any time. The problem is that with this complexity, of course, comes another complexity, which is managing all the elements in a simple and coordinated way.
In response to this circumstance, Razer announced Razer Chroma, which becomes an independent application (currently one of Synapse's optional modules), which will soon enter public beta (you can sign up here if you wish), and which will allow us to uniformly manage the lighting of components, devices, lamps, bulbs and other elements that integrate RGB LED lighting. The announcement of this upcoming app coincides with the announcement of the Razer Aether lighting solution.
Now, although this application will offer advanced lighting management of the brand's devices, its scope is actually much wider Also compatible with third-party devices and components, whether third-party lighting solutions such as Govee, Yeelight, Phillips Hue, Nanoleaf, Twinkly and more, or components from many of the biggest brands on the market. You can see the huge reach on this page.
Source: Muy Computer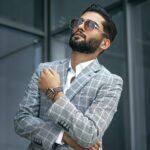 Donald Salinas is an experienced automobile journalist and writer for Div Bracket. He brings his readers the latest news and developments from the world of automobiles, offering a unique and knowledgeable perspective on the latest trends and innovations in the automotive industry.