Samsung has dominated the foldable smartphone market for as long as it has existed. Moreover, we can almost say that this market exists because of the determination of the Korean tech company, and that it was only after the market research that the company did that we saw other tech companies jumping on it. This, mind you, is not a criticism of the others, as they present some of the most interesting devices in recent times. No, it's a recognition of the key role Samsung played in making such a decisive bet on folding.
Being the one who led does not always mean staying in the first position, even in the front line. As new entrants join in, first-generation ideas are no longer enough to stay in the limelight, and that's when it's time to reinvigorate creativity and innovation, not only to maintain one's image, but also not to lose positions as soon as the competition starts to show its teetheither with more innovative devices, more competitive prices, etc.
Samsung is therefore very aware of what is at stake and the importance of constantly refreshing its foldable smartphones, the Galaxy Z Fold and Galaxy Z Flip, as well as exploring new possibilities. It's likely that quite a few ideas don't make it past the design spreadsheet or the spreadsheet used to determine their costs, but others, like the 360-degree folding screen we showed you a few weeks ago, make it to at least the prototype stage.
There is no Galaxy S23 FE in the development pipeline, contrary to what recent rumors indicate.

Samsung is instead working on an improved Z Fold 5 & Flip 5 along with the Tri-Fold which could finally launch this year

FE fans should look elsewhere…

— Yogesh Brar (@heyitsyogesh) March 24, 2023
We don't yet know at what stage (at first yes) this new project is, but according to a well-known and generally reliable leaker Yogesh Brar, Samsung is working on a foldable smartphone with three screensan interesting move that would advance the approach we've already seen in other prototypes, which aims to offer the form factor and size of a smartphone as well as a full-sized tablet in a single device.
for time, it was assumed that this versatility would be achieved through scrolling screensa technology in which we could see some plans and advances a few years ago, but for some time now it seems to have lost ground to models with two (or more) screens, along with highly durable and reliable hinges.
The leak does not provide any further information, however reminded me of the ill-fated LG Project B, one of the latest concepts to emerge from LG's revolutionary ideas lab shortly before the company shuttered its smartphone division. Perhaps Samsung has decided to pick up where LG left off, and I personally think that would be something to celebrate.
Source: Muy Computer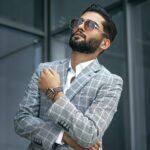 Donald Salinas is an experienced automobile journalist and writer for Div Bracket. He brings his readers the latest news and developments from the world of automobiles, offering a unique and knowledgeable perspective on the latest trends and innovations in the automotive industry.