The fever for artificial intelligence and chatbots is in full swing and Instagram is the latest online service to join it at the moment. I've been thinking for some time, and I'm sure I'm not the only one, that hand in hand with this extreme popularization of this technology, we will see in the coming months more than one case of chatbots being incorporated into services in which, to be honest, they contribute little or nothing, but allow their companies to show off their chest by , that they are current.
Consider, for example, the integration of a chatbot into a social network, which by definition is a type of service specifically designed to interact with other people, it may seem a little strange. However, it is also true that a chatbot can be a very interesting addition to a conversation between two or more people. And it's true that it's become very popular, especially among the youngest people, to use the private messaging features of this type of service to communicate regularly, to the point where certain demographics are taking an increasingly large share of these features. market with services specifically designed for this purpose, such as instant messaging.
So integrating a chatbot into Instagram's private messaging feature may make more sense than first thought. In addition, we must not forget that we are talking about a service that belongs to Meta and that this technological one It seems he (or at least one of them) focused on artificial intelligencea field in which it has great experts like Yann LeCun and which has already made some very interesting announcements and launched some very interesting announcements in the last months like LlaMa (Large Language Model Meta AI) and SAM to name a few examples ..
#instagram is working to bring AI agents (bots 🤖) to your chats for a more fun and engaging experience 👀

i ️ AI agents will be able to answer questions and give advice.
You will be able to choose from 30 different personalities. pic.twitter.com/4eWLBbvs8w

— Alessandro Paluzzi (@alex193a) June 5, 2023
According to the leak Alessandro Paluzziwho would have access to internal company information, Instagram is already testing a chatbot for its messaging feature. Based on this information, the chatbot is designed to answer user questions and make suggestions and recommendations in the context of the conversation. To use it in a group conversation, it will be possible to invoke it using its identifier preceded by the @ character.
What strikes me the most, yes, is that according to the image we can see in the tweet, the Instagram chatbot will present no less than 30 personalitieswhich makes me wonder if they will only differ in their character, or on the contrary, at least some of them will imitate famous personalities, which may attract many people to use them.
Source: Muy Computer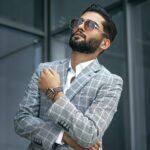 Donald Salinas is an experienced automobile journalist and writer for Div Bracket. He brings his readers the latest news and developments from the world of automobiles, offering a unique and knowledgeable perspective on the latest trends and innovations in the automotive industry.